I'm Daniel Borgstrom.
When people ask why I joined the Marine Corps (1959 to 1963), I tell them, "Because where I grew up, there was no KPFA or Pacifica Radio affiliate." There was just the constant corporate drumbeat of anti-Communism taking many forms, often pretending to advocate world peace, but always in one way or another campaigning against China and Russia.
During the McCarthy Era, KPFA bravely exposed Cold War propaganda for what it was. Throughout the war in Vietnam, KPFA had a genuine antiwar voice, loud and clear. But in recent years, except for a few excellent surviving programs, our station has increasingly echoed the corporate media's support for aggressive U.S. neoliberal policies, even offering justification for "humanitarian" interventions. Establishment groupthink is replacing KPFA's antiwar voice.
This turning away from critical, genuinely alternative programming is closely tied to the station's financial crisis.
For over a decade I've been attending KPFA's Local Station Board (LSB) meetings, watching the tragedy unfold from a back row seat. In 2005, I remember several LSB members warning that our station was living beyond its means, hiring more staff than we could afford, burning through financial reserves. Year after year, those warnings went unheeded.
When crisis eventually hit, and KPFA/Pacifica could no longer afford the excessive expenses, those in control of station governance tried to pin the blame on Pacifica. They also stole the name of an earlier group, wrongfully calling themselves "Save KPFA," and set out to tear our station away from the Pacifica Network and eliminate radio democracy at KPFA. Today they're calling themselves "United for Independent Radio," a new name, same old stuff, same old goal of splitting the station away. If they succeed, will the last vestiges of Pacifica's national antiwar voice fall silent?
That is what we, RESCUE PACIFICA, are up against. We're a group of activists fighting for financial stability, transparency and responsibility, for preserving the Pacifica Network, and for promoting programming that digs into the roots of societal problems rather than just reporting the symptoms. Recently, KPFA management terminated a popular program, Guns and Butter, along with its seventeen years of archives. This was done without transparent process. Such decisions should be handled by a program council, which KPFA hasn't had for over a decade. 
KPFA's antiwar voice is worth fighting for, and that's why I'm running for the LSB. I took part in the Vietnam era antiwar movement, and wrote for the "underground" newspapers of that day; today I write for websites including Dissident Voice, CounterPunch and Global Research. I was an active participant in Occupy Oakland and many other events I've written about, including our struggle at KPFA; please see my website http://danielborgstrom.blogspot.com/
My endorsers include Veterans for Peace, East Bay Chapter 162, of which I am a member.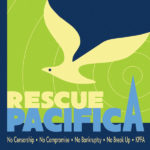 DISCLAIMER: This is not an official Pacifica Foundation website nor an official website of any of the five Pacifica Radio Stations (KPFA Radio, KPFK Radio, KPFT Radio, WBAI Radio, WPFW Radio). Opinions and facts alleged on this site belong to the author(s) of the website only and should NOT be assumed to be true or to reflect the editorial stance or policy of the Pacifica Foundation, or any of the five Pacifica Radio Stations (KPFA Radio, KPFK Radio, KPFT Radio, WBAI Radio, WPFW Radio), or the opinions of its management, Pacifica National Board, station staff or other listener members.