I'm Don Macleay.
The community needs community based information as much as ever in the 21st century. What little variety privately owned media had is now being absorbed into big corporate media while so called "public" media has become beholden to large economic interests for their funding. Only community media, radio in particular, is in a position to bring the public an inclusive set of programs and reports that the public needs to understand our current world.
And the state of our world is a crisis from the well-known global warming disaster to the lesser discussed disasters caused by global capitalism and its accompanying militarism.
I want KPFA to be where people in the Bay Area turn to be told the full story of what is going on locally and out in the world.
To do that we need more listeners, more members, more volunteers and a more professional practice.
We need to go outside of our current listener audience and be constantly on campaign for new listeners/members wherever the public is receptive. We need to make a space at the table for younger people inside our programs and be thinking of renewal and generational handover of the community radio commitment. I see recruiting and promoting youth as a job for each and every program we have on the air. I think that expanding our currently listenership should be part and parcel of every action taken by KPFA management. Every time station management acts, we should ask ourselves how it helps us expand the number of people tuning in. Every program should have a public outreach responsibility.
KPFA has a lot to be proud of and a big base to build from. Given the size and politics of the Bay Area, our share of the ratings is too low and we have all the tools at hand to do something about it as long as adding to the listener base becomes an absolute priority.
Yours, Don Macleay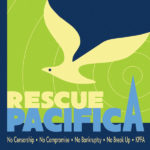 DISCLAIMER: This is not an official Pacifica Foundation website nor an official website of any of the five Pacifica Radio Stations (KPFA Radio, KPFK Radio, KPFT Radio, WBAI Radio, WPFW Radio). Opinions and facts alleged on this site belong to the author(s) of the website only and should NOT be assumed to be true or to reflect the editorial stance or policy of the Pacifica Foundation, or any of the five Pacifica Radio Stations (KPFA Radio, KPFK Radio, KPFT Radio, WBAI Radio, WPFW Radio), or the opinions of its management, Pacifica National Board, station staff or other listener members.