I'm James McFadden.
I believe that volunteer work, and showing up for civic meetings, is critical to the health of the community – therefore I show up. As an avid listener, I feel KPFA is one of the Bay Area gems. Therefore, I would like to support its continuation.
My primary interests are keeping KPFA corporate free and improving its diverse set of programming. I believe I can bring something unique to this effort. However, I also realize that as a cisgender, straight, elder white male, my demographic is nearly always over-represented. Therefore I encourage all KPFA voters to please vote for a diverse Board.
I've been a research physicist at UC Berkeley since 1985. Starting in 2008 with the economic crisis, and knowing that I did not know how this crisis would be used (I was reading Naomi Klein's Shock Doctrine at the time), I began a self-education program in economics, history, politics, racism, and psychology – I like to read. That process was humbling – the realization
that much of what I thought I knew had been sanitized – and the renewed excitement of searching for truth in another field. I now believe I have fair grasp of these subjects – or at least I know enough to see the big picture.
Starting in 2010, after the Citizens United decision, I became an activist. When I moved to Berkeley in 2012, I joined and later became the facilitator
for East Bay Move to Amend promoting a 28th amendment, HJR48, declaring "corporations are not people" and "money is not speech". I'm currently a regular participant in the Alameda Green Party, Berkeley Progressive Alliance, Indivisible Berkeley Racism and Criminal Justice Reform, Berkeley NAACP, System Change Not Climate Change and McGee Spaulding Neighbors in Action.
It is from a Green Anti-Corporate perspective that I would operate on the KPFA Board. Since 2014 I've been regularly attending Berkeley City Council meetings, along with various city commission meetings, so I am familiar with the operations of such bodies. I'm currently working to elect progressive representatives in the area. In order to increase my community organizing and political work, I dropped to 43% time at UCB in 2017.
I've heard that being a KPFA Board member can be very trying. However, I feel I am pretty good at listening, not getting defensive, checking my privilege, and maintaining an open mind. These are skills I have not always had, but are skills I have worked on as an activist/organizer for the past 8 years. In addition, my research background and my family's culture have given me a healthy skepticism of authority and an attention to detail. They also equipped me to "think out of the box" and to find the "alternative hypotheses" if debates get heated. These are skills that should also be helpful at KPFA.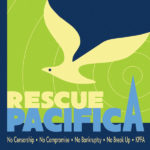 DISCLAIMER: This is not an official Pacifica Foundation website nor an official website of any of the five Pacifica Radio Stations (KPFA Radio, KPFK Radio, KPFT Radio, WBAI Radio, WPFW Radio). Opinions and facts alleged on this site belong to the author(s) of the website only and should NOT be assumed to be true or to reflect the editorial stance or policy of the Pacifica Foundation, or any of the five Pacifica Radio Stations (KPFA Radio, KPFK Radio, KPFT Radio, WBAI Radio, WPFW Radio), or the opinions of its management, Pacifica National Board, station staff or other listener members.